Maintain Your Business Buildings With Building Washing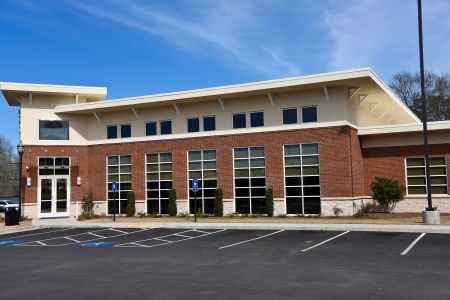 At Vela Construction LLC, our building washing pros use proven cleaning solutions to restore the fresh appeal to your Macedonia business property's exterior surfaces. Organic growth, grimy buildup, and set-in stains are no match for our power washing specialists.
Don't use in-house labor or valuable employee hours to maintain your building exteriors. Call the building washing pros at Vela Construction LLC to request a consultation ,
We Clean Commercial Buildings, Restaurants and Hotels, Retail Centers, And More
Caring for your commercial property's exterior surfaces is easy when you leave it to the commercial power washing pros at Vela Construction LLC. We're proud to provide expert building washing and other power washing services for a wide array of businesses and commercial properties in the Macedonia area.
Retail Centers
Restaurants & Hotels
Convenience Stores
Apartment & Condominium Complexes
Multi-Family Residential & HOAs
Office Buildings & Office Parks
Parking Lots & Parking Garages
Schools & Institutions
Warehouses & Industrial
Commercial Buildings
Explore our website to find out more about our building washing and other commercial power washing for Macedonia and the surrounding communities in Summit and Cuyahoga Counties. If you're ready to schedule a consultation, give us a call today!
Business Building Washing Made Easy With Our Expert Help
At Vela Construction LLC, we use commercial-grade equipment with adjustable settings and custom-tailored cleaning solutions to safely clean a variety of building surfaces:
Concrete
Exterior Glass
Brick & Masonry
Vinyl Siding & Plank Siding
Wood & Composite Materials
Plaster & Stucco
Screened Enclosures
Awnings & Shutters
Don't leave your building washing in the hands of an inexperienced staff member. Trust the commercial power washing pros at Vela Construction LLC to clean your business property's exterior surfaces safely - and without damage.
---
Frequently Asked Building Washing Questions
In general, building washing is performed annually, seasonally, or even on a monthly basis, depending on the type of business and its location. There are many factors that can contribute to how often you need to have your Macedonia business property's exterior surfaces cleaned. A high-traffic drive-thru might need more frequent building washing than an off-the-beaten-path restaurant, for instance. Environmental conditions or a busy storm season could lead to organic growth and grimy buildup. Our building washing specialists will evaluate your commercial property and custom-tailor a maintenance plan to meet your needs.
Thanks to our commercial-grade power washing equipment and customized cleaning solutions, there aren't many business buildings in the Macedonia area that we can't keep clean. We provide professional building washing for shopping centers, office buildings, hotels, restaurants, warehouses, and more. If you have a business or commercial building in the Macedonia area and would like to request a consultation, give our friendly professionals a call today at 330-840-2899.
SCHEDULE A CONSULTATION TODAY WITH YOUR PROFESSIONAL EXTERIOR CLEANING, REPAIR, & SEALING COMPANY.