Concrete Sealing To Protect Your Freshly Maintained Paved Surfaces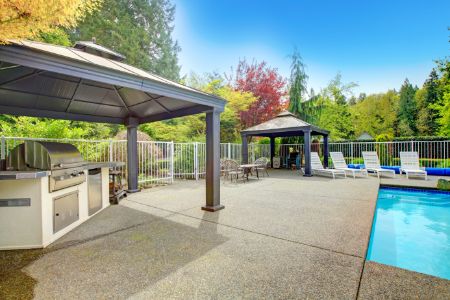 When it comes to concrete preservation for your Macedonia home or business, you can't beat concrete sealing to give your surfaces lasting beauty and protection. Concrete sealing creates an invisible barrier that protects your concrete surfaces from water intrusion and organic growth.-
At Vela Construction LLC, our commercial-grade sealants come in a variety of finishes to create just the right aesthetic for your home or business. To find out more about our concrete sealing, crack repair, and power washing for Macedonia and the surrounding areas, click the link to contact Vela Construction LLC today.
Pavement Sealant Application
Vela Construction LLC offers expert pavement sealant application for all of your concrete surfaces, including:
Driveways
Sidewalks & Walkways
Porches & Patios
Pool Decks & Recreation Areas
Commercial & Industrial Flooring
Parking Garages & Parking Lots
Dumpster Pads & Service Areas
No matter how large or small your concrete sealing project may be, the pros at Vela Construction LLC have you covered.
Quality Concrete Preservation & Care For Macedonia Homes & Businesses
Maintaining your Macedonia property's concrete surfaces is easy when you leave them to the pros at Vela Construction LLC. We offer a broad range of quality concrete preservation and care services for homes, businesses, and commercial properties.
Industrial Floor Maintenance
Concrete Preservation
Parking Garage Repairs & Maintenance
Driveway Repairs
Crack Chasing & Expansion Joints
Concrete Sealing & Waterproofing
At Vela Construction LLC, we work closely with property managers and maintenance teams to ensure compliance with HOA regulations and keep your concrete surfaces looking their best. Give us a call today to speak to one of our friendly specialists about concrete services in the Macedonia area.
---
Frequently Asked Concrete Sealing Questions
Outdoor concrete surfaces like porches, driveways, and pool decks can all benefit from concrete sealing to prevent damage, stains, and organic growth. Concrete sealing creates a barrier between your concrete surfaces and the elements and can give your concrete surfaces long-lasting durability. Concrete sealing is also an excellent option for interior concrete applications like commercial and industrial flooring, residential garages, and more.
From high-gloss sealers to textured sealers, to tinted sealers and more, we offer a wide array of commercial sealing products in a broad range of finishes to blend performance, durability, and a pleasing aesthetic. When you leave your concrete sealing to the pros at Vela Construction LLC, you can count on quality results.
There are many factors that can contribute to the frequency of concrete sealing needed for your property. UV exposure, weather events, and heavy traffic can all contribute to the need for more frequent pavement sealing. In ideal conditions, industry professionals recommend having your concrete re-sealed every 1-5 years to keep your concrete in good condition and prevent cracking and damage. The concrete sealing pros at Vela Construction LLC will evaluate your Macedonia property's surfaces and provide you with a customized maintenance plan to meet your needs.
SCHEDULE A CONSULTATION TODAY WITH YOUR PROFESSIONAL EXTERIOR CLEANING, REPAIR, & SEALING COMPANY.